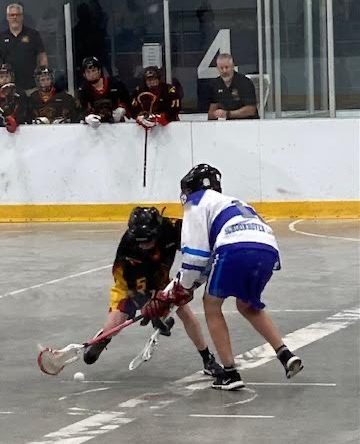 U15 & U17 Bayhawks Play Host to Nepean Knights
On May 14th, 2023, the U15 and U17 Quinte Bayhawks played host to the Nepean Knights at the Quinte Sports and Wellness Centre. A total of 3 games showed the spectators, including some of our youngest Bayhawks, the bright future of lacrosse in Quinte.
Game 1 featured our Baldwin Electric U15 Bayhawks taking on the Nepean Knights #2 team. Many players were experiencing their first taste of the high-intensity action that is rep lacrosse. While the home team showed many promising signs, the experience of the Nepean team showed in a 13-0 Knights win.
Game 2 brought a highly competitive matchup between the Schoonhoven Landscaping U17 Bayhawks and the U17 Nepean Knights #2 team. Both teams started out strong looking for a win in their first game of the season. The home team was determined in this one, and their effort was rewarded with an 8-2 victory. Leading the way for the Bayhawks were Tehentsyahkhwa Brant and Patrick Fee, each notching 4 goals and 1 assist. Tanner Zadworny was strong in net for the win.
In game 3, the Baldwin Electric U15 Bayhawks returned to play the Nepean Knights #3 team. Despite playing in their second game of the day, the team battled hard for the home crowd. The improvement over the first game showed, but the Bayhawks ultimately fell short in an 8-1 loss. Scoring the lone goal for the Bayhawks was Wade Doreen.
Next action for the U15 and U17 Bayhawks is May 27th when they host the Akwesasne Storm at the Quinte Sports and Wellness Centre. The U9 Bayhawks will play in front of the home crowd against the Gloucester Griffins on June 18th.