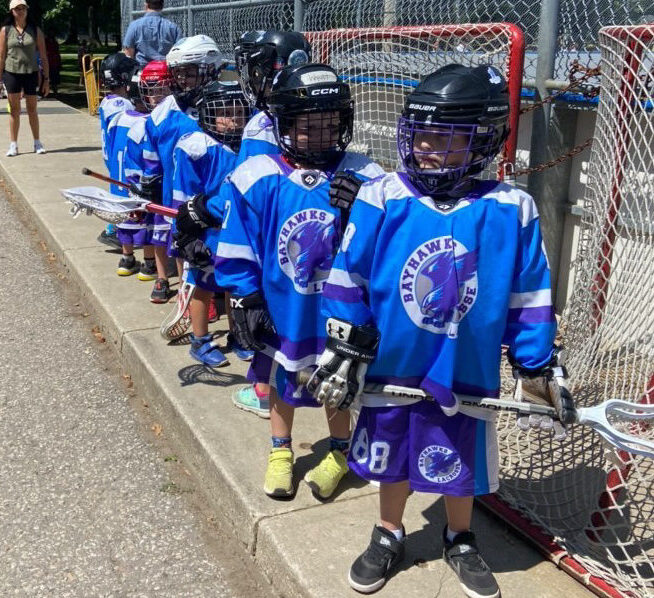 Bayhawks Compete in Toronto Beaches Hogtown Paperweight Tournament
On July 9th, 2022, our 5 and 6 year-old players on the Quinte Bayhawks paperweight all-stars participated in the Hogtown Paperweight Tournament hosted by the Toronto Beaches Lacrosse Club. The event was held at the Kew Beach outdoor box, and it was a beautiful day for lacrosse by the beach!
Three games were played over the the course of the morning and early afternoon and the team came away with two losses and a tie against some very worthy opponents from established lacrosse communities in Ontario. Sandwiched between two losses against Burlington Chiefs and Milton Mavericks, the Bayhawks battled hard in the bright sun and heat to tie the Newmarket Redbirds, although it was evident all players came away winners judging by the smiles on their faces and the fun they were having! Needless to say, it was a quiet ride home for most parents, as the big day took its toll on the players and it was time for a much needed rest.
Quinte Minor Lacrosse Association would like to extend a huge thank you to our jersey sponsors New Hope Surrogacy and Egg Donation, as well as other generous donations from Cheryl Carrier, REALTOR®, RE/MAX Quinte Ltd. Brokerage, Dave's Bike Dump and The Water Guys. We would especially like to thank the parents for their commitment to making this a great experience for our youngest Bayhawks!